oh my boys had such a day! We visited daddy's work and they got loaded with candy. We got pizza from papa murphy's and they had out COOKIE DOUGH to kids in costume. They walked the neighborhood and have more candy that two kids can eat (good thing they have nice parents willing to help!)...AND it's FREEZING outside! brrrrrrrrrrr...
Here are a few pictures for your viewing enjoyment.

and um, we're still working on getting the eyeliner mustaches off. :)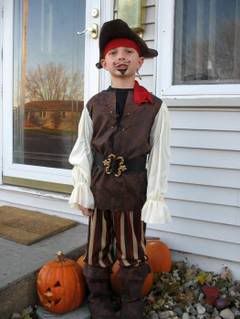 In South Dakota you have to be creative with warming up your halloween costumes. BOTH boys had long underwear on and extra t-shirts. Levi also had a stocking hat UNDER his conducter's cap. Caleb has long underwear AND slicky pants on under the costume pants and a long sleeved t-shirt AND a sweatshirt under the costume shirt - and then a headband ear warmer thingy under his hat as well. They were NOT impressed when we made them put on coats! But it's FREEZING OUT THERE!